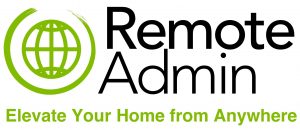 Access the full admin features of your Hubitat Elevation hub from anywhere using the Hubitat Remote Admin service:
Secure access to all of your hubs
Create or edit apps, manage devices, and adjust settings from anywhere
Easy remote administration
Remote Admin expands your ability to access your hub admin features beyond your Local Area Network (LAN). By adding Remote Admin, you can access all of your hubs, including your rules, apps, device info and settings from anywhere with internet service. Remote Admin is password protected using our secure servers to maintain your privacy and works on mobile devices, tablets and computers with a web browser. All home automation processing remains local on your hub for speed and reliability.
Remote Admin is offered as an optional subscription service to anyone running 2.2.6 or later for $2.99/month. One subscription gives you Remote Admin for all Hubitat Elevation hubs on your account. Your Remote Admin subscription renewal may be cancelled any time and your Remote Access will remain available until the end of the subscription period.
Try it FREE! As an introduction to Remote Admin, we are offering a free trial month of service to all new subscribers.

Bundle and Save
Purchase an annual Remote Admin with an annual Hub Protect subscription and save 15% each year.
How to Sign Up for Subscription Services
Register your hub
If you have not already done so, register your hub and set up your Hubitat Account.
Update your hub
Subscription services are only available on version 2.2.6 or later.
Tap the new Subscriptions link
A new subscriptions link will appear in the menu after you update your hub. Tap it to go to the Subscriptions online store. You may be prompted to log in to your account before you can enter the store.
Complete Your Purchase
Select the Subscription service you would like to purchase and complete the checkout process. If you wish to purchase both services you will need to go through the checkout process separately for each service.
Check your subscription status
While logged in to my.hubitat.com, go the 'registered hubs' page. Below your hub it will indicated which services are active.
Once you subscribe to Remote Admin you will be able to connect to your hub remotely using a link on the registered hubs page of 
my.hubitat.com
.
Going off the grid
Cell dongle support is available under Settings – Networking. We tested it with a ZTE USB cellular modem 100 (clean Amazon link is also in the app), but it can be used with any USB networking device that doesn't need a specific driver and can acquire its own IP address. Use USB cellular modem and remote access in tandem to manage a hub in a remote location.